Boston, MA
2nd Annual Scholarship Award Ceremony
Hosted by the Law Firm of Prince Lobel and Tye LLP
One International Place Suite
3700 Boston, MA 02110
Visitors Guide (PDF)
Thursday March 8th, 2018
5:30pm – 7:00pm
The Host Committee for the 2nd Annual Sarita and Claire Wright Lucas Foundation Scholarship Award event looks forward to welcoming you to our 2018 celebration. Last year businesses, civic, community partners and friends gathered to commemorate our Scholarship Initiative. We would be delighted if you would join us for our 2018 celebration. The event is free. Cocktails and hors d'oeuvres will be served.
The Sarita and Claire Wright Lucas Foundation was established in 2015 and is named after Delaware Deputy Attorney General Sarita Wright Lucas and her daughter Claire in recognition of Sarita's integrity and passion for justice. The goal of the foundation is to contribute to diversity in law enforcement by supporting young attorneys of color  like Sarita, who commit to pursuing careers in the justice system as Prosecutors.
Event Special Guests
Daniel F. Conley
Suffolk County District Attorney
Geraldine S. Hines
Retired Massachusetts Supreme Court Justice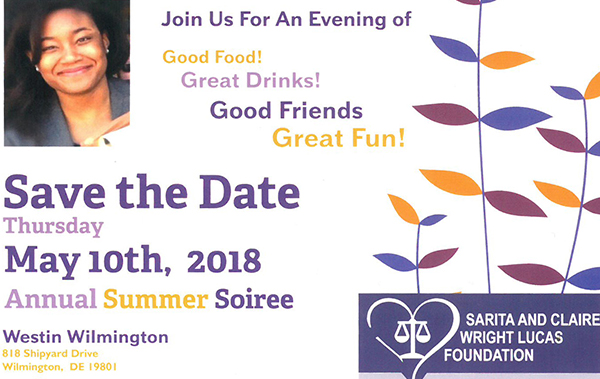 Wilmington, DE
3rd Annual Summer Soiree
River Rock Café – On the Patio
Thursday May 10th, 2018
5:30pm – Until Late
The Foundation's signature Delaware event Summer Soiree – Rhythm At the River Rock. We would be delighted if you would join this year!
The Patio will be open and a warm summer night will make it especially festive for all of the business, civic and community partners and friends who will gather for delicious food, great music, fabulous Silent Auction, games and more – the perfect ingredients for a truly excellent party!
Join us for a remarkable, informal evening where we celebrate the Foundation's milestones; scholarship funds raised and awarded, and we thank our good friends and supporters like you who believe in our mission and continue to lend us support.